Everybody understands the importance of maintaining online security, therefore a good password manager serves the purpose best. A good password manager helps to generate unique and strong passwords, and then saves them securely for you to use anytime you want. 
Numerous password managers with the same set of basic features are available, which generate, store and sync passwords across devices. Some password managers charge a monthly fee while some of them are free to use and have paid subscription tiers for the advanced features. 
In this article, we have provided a list of some of the best password managers out there which are easy to use and have all the required features.
Bitwarden
Bitwarden is new in the market and seems to work nice. It is free and open source and lets you host your own password server. The app is user friendly and is equipped with almost everything businesses and individuals require in a password manager. The free plans at Bitwarden include multi-device sync, optional self-hosting, and unlimited online storage. On the other hand the Premium plans report on your password being weak, average or strong. According to a few users, Bitwarden is one of the best free password managers available and is capable of putting some paid password managers out of business.
Price: Free
1Password
Being home to the basic features present in almost all its competitors like password management, password generation, cross-platform support with other operating systems, 1Password is a highly competitive password manager. Apart from the basic features, it also offers password unlock and other organization and safety features. 1Password presents a 30-day free trial and requires a subscription after that. 
Price: Free / $2.99-$4.99/month
NordPass
NordPass is considered a very capable password manager. It is feasible with Chrome, Firefox, Edge, and Opera, as well as desktop apps for Windows, macOS, and Linux, plus iOs and Android mobile devices. From suggesting strong passwords to allowing you to safely store credit card and banking details for easy transactions, NordPass makes things easier. The free version allows you to sync your information with just one device. However, the premium plan lets you sync up to 6 devices. A good thing about NordPass is that you can save unlimited passwords here, unlike its competitors which saves only a limited number of passwords. If we talk about the negatives, NordPass does not autofill forms.
Price: $4.99/month
aWallet Password Manager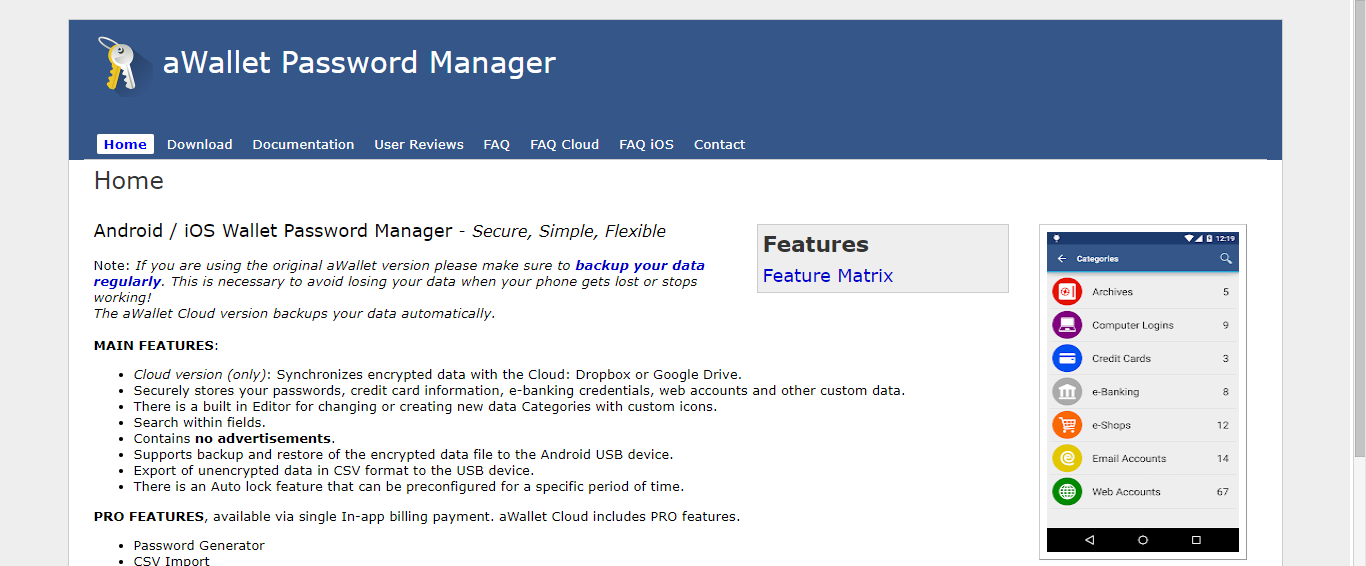 aWallet is serving people for a very long time now. You can store your passwords, banking and credit card information. Some of the features present in the free version are built-in search, custom icons, and an auto-lock feature. The built-in password generator comes in the paid version. The app can be downloaded for free, however there is a fee if you opt for the premium version.
Price: Free / $3.49
Dashlane
Dashlane is a popular password manager. It has a fairly good number of features, most of them are free to use. Apart from the paid version, it also offers a free version which does not have all the apps. The free version includes auto-fill, security alerts, storage for up to 50 passwords, and usability on a single device. You can opt for any premium subscription from the two subscriptions available at present. You can go for either $4.99/month or $9.99/month premium plan. The former plan upgrades the password storage and device syncing to unlimited, and adds dark web monitoring and a perfunctory VPN. The latter plan adds a credit monitoring service, identity restoration support, and $1 million in identity theft insurance. 
Price: Free / $4.99-$9.99 per month
Enpass
Enpass is a powerful password manager. It offers the desktop versions for Mac, PC, and Linux. There is no subscription fee which is really good. This app is so cool that it can backup and restore the information. Enpass includes 256-bit AES encryption and cross-platform syncing. This feature lets you import from other password managers making migration easier. The app can be used for free with Google Play Pass. 
Price: Free / $9.99
Keepass2Android
Keepass2Android is a very basic password manager. Being a simple app, it lacks various complex features which are present in its competitors. The brightest spot is that the app is free and open source. Keepass2Android is based on the code for Keepassdroid which is another free and open source password manager. Both of them are compatible with each other. People who are looking for a budget friendly password manager, then this is it.
Price: Free
Keeper
Keeper is a very old password manager. However, frequent updates keep it on the go and relevant with present needs. Some of its features include auto-fill, password generator, vault for storing files, photos, and videos. The desktop version of Keeper is decent too. The only setback is that the app is quite expensive. Although, it offers a free version for users and a trial for the pro version.
Price: Free / Up to $9.99 per month / Up to $99.99 per year
LastPass
LastPass is a very typical password manager. It has a myriad of features like auto-filling passwords into apps, sites, and forms. You can securely store photos and audio notes using this app. The app is also home to various unique features which are hard to find in other apps. These include fingerprint scanner support, password generator, password auditor, etc. The app is so cool that it lets you grant emergency access to a friend or family member. 
Price: Free / $2-$4 per month
Zoho Vault
Zoho Vault is one of the cleanly designed password managers. It is feasible with both iOS and Android and works decently with both. A good feature about this password manager app is that it reports on the strength of passwords. However, its browser extension is a little clunky. Therefore many useful features get buried behind many layers of menus and sub menus.
Price: Free
These were some of the widely used password managers and they are here to stay on records this year too. I hope you find this blog useful.